CloudFlare is a very good solution for making your websites fast, secure and reliable. Those who hadn't heard of CloudFlare would be now asking to yourself what is CloudFlare service right? Well I would tell you in detail about it, How it works, What all it could do which will help you a lot! This is the CloudFlare review that I have prepared for you!
What is CloudFlare?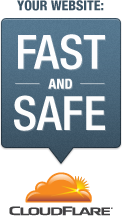 CloudFlare is a Free (as well as Paid) service which will make your websites fast, secure and reliable! It automatically optimize the delivery of your web pages so your visitors get the fastest page load times and best performance. It also block hackers, spammers as well as bots which can do harm to your websites as well as your servers.
Features
CloudFlare has excellent features which helps your website a lot!
1. CDN
CloudFlare gives CDN service for free, as it could distribute your content around the world so it's closer to your visitors. It surely speed up website loading speed and makes visitors & crawlers (Search Engines) not to wait longer. CloudFlare is compatible with any websites, any CMS, any scripts! CloudFlare is activated easily by changing your current nameservers to theirs! No downtime, No slowness! After it gets activated, Your sites gets faster!
2. Optimizer
CloudFlare have optimizer which will actually edits scripts of your websites to make it faster to load, ie., It automatically minify JavaScript and CSS for your web pages, resulting in smaller scripts and faster load times. It also has Rocket Loader which actually automatically asynchronously loads your JavaScript resources, resulting in faster page rendering. But sometimes, some of your scripts might break (especially RevenueHits Ads, whos.amung.us Visitors Counter), so you can disable Rocket Loader from CloudFlare settings.
3. Security
CloudFlare's Security feature surely rock because you don't need to worry about DDoS attacks, SQL Injections. If you ping to your website after activating CloudFlare, you could see its another IP. Even it has the option to give a CAPTCHA (Enter the words to continue feature) to all suspicious users which is tracked by IP. CloudFlare's technology automatically detects new attacks that arise against any website on its network. Once CloudFlare identifies that there is a new attack, CloudFlare starts to block the attack for both the particular website and the entire community. Since IP is different it will also make all ports inaccessible to users (Even cPanel, WHM, SSH, Telnet) unless you point a sub domain and disable protection.
If you upgrade to their Paid plans then you can get to enable SSL for your website as well as getting additional protections based on the plan you choose. You can check out their Plans: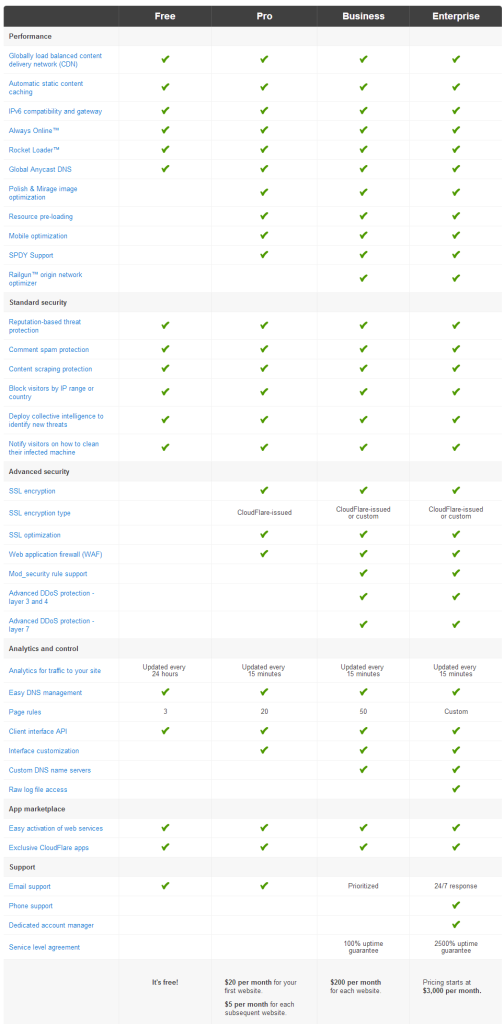 4. Analytics
Curious to know how many visitors you got for your website? Well CloudFlare provides the most accurate visitor analytics.
You can see the picture of my Analytics so you can understand how it would look like :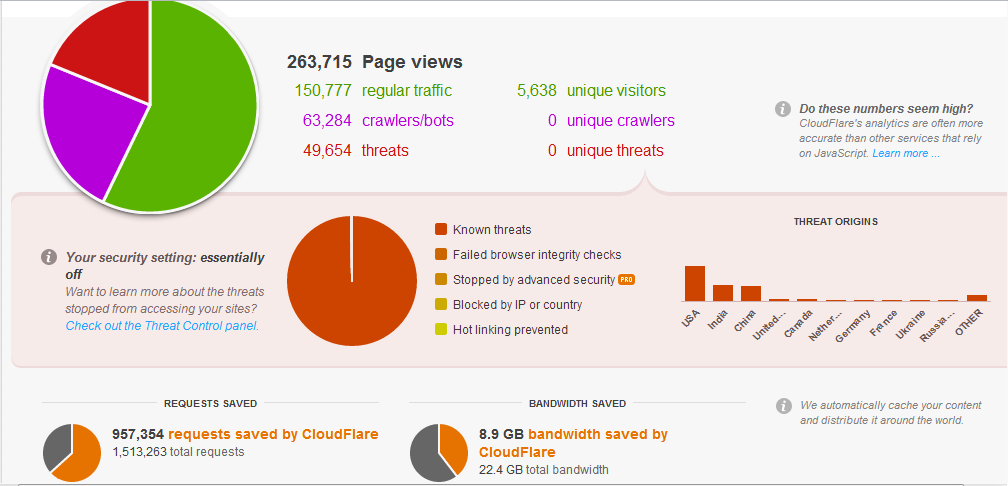 Even if your using CloudFlare, of course you can use Google Analytics and other 3rd party trackers as there will not be any conflict at all.
5. Apps
CloudFlare has some cool app integration for your website so that you can add cool scripts with 1 click! That's right, you don't need to edit your current codes to put apps which are already available in Apps Marketplace.
6. Always On
Always On feature actually saves your website from downtimes! Like if your server is down, If CloudFlare has cached your website then it will show the cached copy if your server is down! And if there is no cached version, then it will show a message to visitors that the server is down. Its actually a good feature.
7. Threat Control
Do you want to Black List or White List IP(s)? CloudFlare can do it! There is an option called Threat Control for all domains and you can add your IP(s) accordingly! You can even see who all were blocked already.
8. DNS Management
In CloudFlare you can manage your DNS records very easily, It supports A, CNAME, MX, TXT, SPF, AAAA, NS, SRV, LOC.
What I am impressed with DNS Management system of CloudFlare is that, if your server got migrated and you want to make the site to resolve to another IP immediately then while changing the IP in this CloudFlare panel, It actually makes site live within seconds! That's really a cool feature as it was helpful for my high traffic website which needs to be switched to a new server since i don't need to wait for IP(s) to propagate since CloudFlare has one IP already assigned to my domain and its already resolving, only thing is that while changing the IP inside CloudFlare it actually tells system to get latest website from the new server and wallah!
Well That's My Review of this great service! I am using CloudFlare for all my websites. If you would like to tell your comments, Please leave a comment!