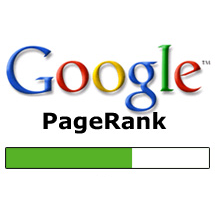 Page Rank is an essential factor in terms of making money through your blog or website, as every advertisers, ad companies look at your page rank to decide whether to advertise your site or not. As usual most ad companies accept your publisher application if your page rank is 1 or above.
Well, What is Page Rank?
Page Rank is a link analysis algorithm, named after Larry Page and used by the Google Internet search engine, that assigns a numerical weighting to each element of ahyperlinked set of documents, such as the World Wide Web, with the purpose of "measuring" its relative importance within the set. The algorithm may be applied to any collection of entities with reciprocal quotations and references. The numerical weight that it assigns to any given element E is referred to as the PageRank of E
— Wikipedia (en.wikipedia.org/wiki/PageRank)
All right, How do I get more Page Rank?
Link Building
Well as the term "Link Building" itself says the answer, you may link your blog or website's URL to sites which contains high page ranks. You can purchase links from ad companies or you can simply look up other blogs and comment on it, make sure you include your blog's URL at the end of the comment. Therefore, always comment on other blogs.
Participate in forums and include your blog URL of the relevant topic as the reply of the thread and users would visit your blog to check it!
Directory submission
Make sure you submit your blog to different directories which has high page rank. There are several site in which you can submit, Just do a Google search and you could get.
Social Networking
Promote your posts to Facebook, Google+, Pinterest & Twitter! Especially Twitter is the best way to get traffic as people would search for keywords relating to your article and thereby getting a chance to see your promoted post. Get lot of Twitter followers & Facebook fans to get lot of hits for your blog. By increasing the number of visitors to your blog, it surely helps build up your Alexa rank as well the page rank too!
Comments on your blog
Always comment back your visitors comments as well invite your friends to comment too! It would too increase your Page Rank.
Write Unique content
Make sure you write your blog with unique content, Don't write a blog with same topic over and over again! Make sure you have proper titles as well as the content should be written beautifully. Make sure its categorized and tagged properly.
If you have a good alexa rank maintained after following these tips then you could easily gain PR higher. I will write on boosting Alexa rank next time!
Well these are the tips that you can follow and you could get the results of increasing page rank after 2+ months. If you have any questions, Please comment – I'd definitely answer it.