Well, they did it! Samsung Galaxy S5, with new cool features, shape, battery, blah blah blah! Wait a second, Really? I don't think its a big "next" thing! I will tell more about that in this following article. Let's start with the main points. As per the MWC press conference, Samsung claimed that they will ship the device from April 11 in multiple countries — which itself is a great improvement I believe. But as always Asian countries would be affected with crazy prices as usual — well they blame the taxes!
Samsung Galaxy S5 Features
OK, let's take it from the top. The new Samsung Galaxy S5 will come standard with the new Android 4.4 which is known as "KitKat" — Of course, everyone knows that and its easy for a child with some knowledge about the latest stories about technology could always come up with that! Then comes the screen & resolution — Galaxy S5 comes with a HD screen of 5.1 inches with a resolution of 1080 x 1920 with as always Corning Gorilla Glass 3. While checking the processor, as we all know about the Apple's iPhone 5S processor had 64-bit, therefore again Samsung took further improvements in their processor with 64-bit capabilities ie., 2.5 GHz Qualcomm Snapdragon 801 processor for 4G/LTE supported chip, can handle 4G download speeds of upto 150 Mbps. & the upgraded Exynos Octa-core chip too — Officially, they announced the Qualcomm chip, and many sources reveal that they will launch the Exynos version too!
Also, we expected a little hope by increasing the RAM that is more than that of Note 3, but again Samsung let us down by having 2 GB RAM only — well its awkward. It also comes with the ability of adding up to 128 GB Micro SD card to extend your storage space.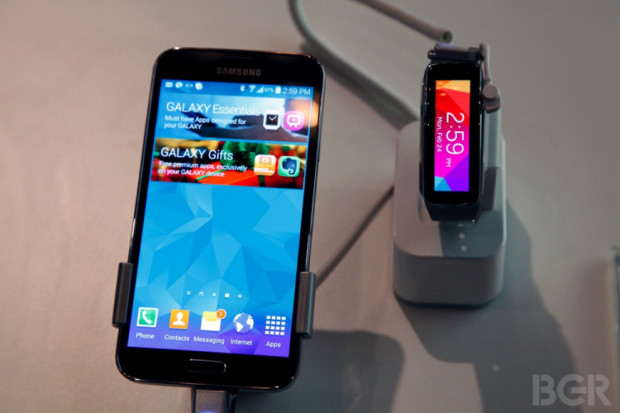 The new Fingerprint scanner, IP67 certified – dust and water resistant, Water resistant up to 1 meter and 30 minutes & Heart Monitor that monitors heart pulse & with that have improved galaxy gear watch with it — I can see that these 4 are the like moderate upgrades to the phone. But what we have the best upgrade is the camera, as it have the 16 Mega pixel 4K shooting ability camera that can capture videos of 2160p @ 30 frames per second! It can give a resolution of 5312 x 2988 pixels which is future 4K compatible but what let us down is the screen which has the ability of outputting resolution of 1080 x 1920 which doesn't give the effect of playback.
That's all — Reviews over! What? Shocked? This is the "big" changes? Well, by their awesome copying ideas of Apple's iPhone features, they started to copy them fully! By providing little bit of upgrades and selling to public to get money — Great Business!
Oh, and about the design, here is what I want to tell! (Below Facebook Post needs sometimes to load, if it doesn't load, please click here)
Ok, So if should you upgrade? Well my opinion is "NO" until the new Note 4 or S6 releases.