Jio 4G LTE
Back with an unusual review, but due to the benefits of the service provider & making it a change in India, I am proud to do this review for Reliance Jio. In this review, I would be mainly focusing on the data quality of the 4G network that I got while testing for a whole month.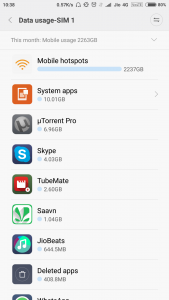 Last month, I had received a sim card from Reliance Digital Xpress Mini outlet for testing out Reliance Jio network in Trivandrum (Thiruvananthapuram) and was amazed to see that the network is excellent compared to the others. I am not bluffing, for this month, I have been using the sim in my Xiaomi Redmi Note 3 phone for data (wifi tethering) and voice purposes and the quality is excellent. For now, even for calling, I use Jio itself, and I thank the store for giving me a good number also, like the fancy number I use presently.
At the time of writing this review, I had used 2,263 GB (2.263 TB) and was getting an average of about 20 Mbps at my home & 30 Mbps at my college. I haven't seen speed dropping below 5 Mbps which is very rare.
How Did I Test?
Well basically, like everyone, I started out with having two apps, NetVelocity app (Reliance Jio's Speed Test application) & Speedtest.net Premium app. I will be giving out the screenshots of both the apps tested in Indoor & Outdoor from my home.
NetVelocity – Indoor Test (Download)
NetVelocity – Indoor Test (Upload)
NetVelocity – Indoor Test (Result)
NetVelocity – Outdoor Test (Download)
NetVelocity – Outdoor Test (Upload)
NetVelocity – Outdoor Test (Result)
Speedtest.net – Indoor Test (Download)
Speedtest.net – Indoor Test (Upload)
Speedtest.net – Indoor Test (Result)
Speedtest.net – Outdoor Test (Download)
Speedtest.net – Outdoor Test (Upload)
Speedtest.net – Outdoor Test (Result)
In the above speed tests, you can see that indoor and outdoor speed tests are almost similar, but to be clear, speeds have exceeded 25 Mbps while using multiple torrents. Check the screenshot below: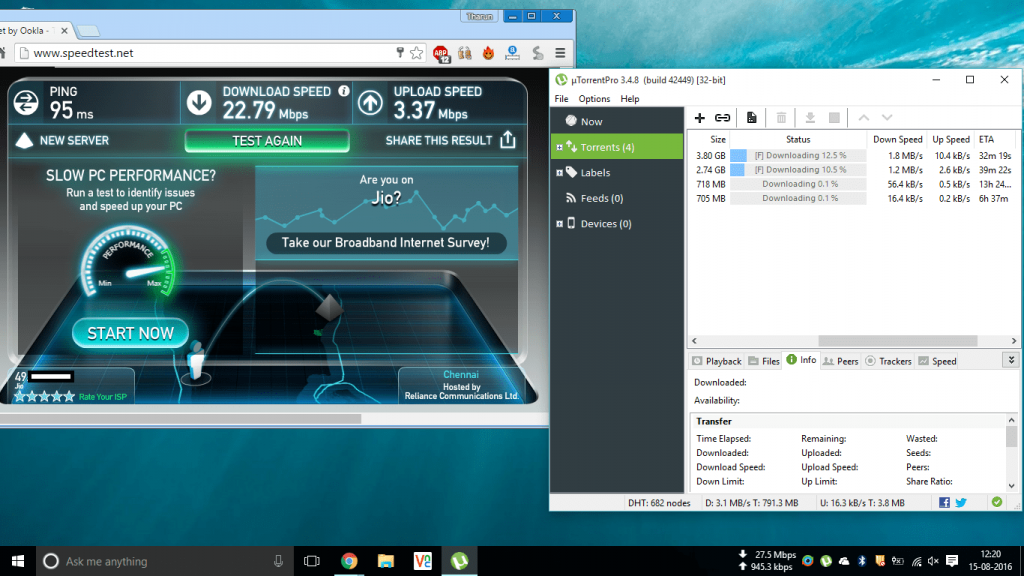 In the above screenshot, before adding the torrents, I did a quick speed test and it comes around 22.79 Mbps. After that, I have added 4 torrents, in which, the first 2 torrents having 100-500 seeds and the last 2 torrents having less than 10 seeds. Down, you will see the internet speed meter clocking at 27.5 Mbps download, which infact is the speed i get at most times. Still if you take the average, I would say 25 Mbps as I can see the speed dropping to 22 Mbps for 10 seconds and fluctuating speeds between 25 Mbps to 28 Mbps.
Speaking of data, I have done many tests with voice, with the lowest signal itself (which is very rare here as there are only very few locations that have less signal here) and the voice quality was superb. Connecting a call is very quick and only problem that I occur is at times when the call just disconnects while dialling, but that should be temporary as Jio can solve that issue once its commercially launched. Now, the call forwarding option isn't working either, so I guess Value Added Services of both free and paid would only be available when its commercially launched.
Conclusion
As per the reports, Jio is mainly focusing on giving customers more data for less cost. Heard that, there would be an unlimited plan for customers too. If the network stays like this, the quality of service would be the best that Jio can offer for less pricing. Still, to be honest, if we can get around 10 Mbps minimum with unlimited usage, I'd surely opt for it.
For people that requires short latency and is currently having fiber connection, Like I am having to connect multiple servers around the globe, to be honest, not bad – I mean, I can't find any difference in the connection latency, pings to servers at US is averaging around 250ms and to Dubai is around 150ms. So Skype and other video applications are fast, I don't see any lags whatsoever.
So should you go for it? Yes, if its the same speed that I have been getting or at least if you could get 10 Mbps. If the price is about the same as the other telecoms (As per the rumors and news, which so far its not), then No.